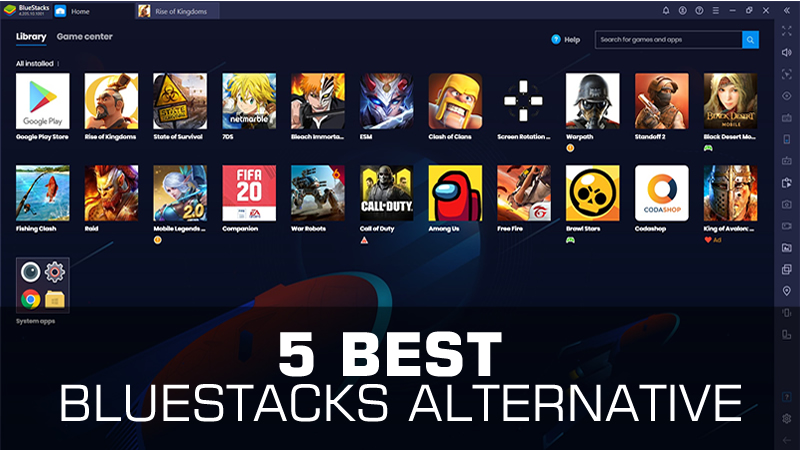 Bluestacks android emulator is one of the oldest and most used android emulator on the market available for free. Bluestacks is a software used to run android native apps on your PC as if they were running on the phone. Due to a lot of ads within the Bluestacks emulator, many of its users are looking for another free Bluestacks alternative just to get rid of the ads and some are for other purposes.  Our list of 5 best Bluestacks alternative android emulator will help you get the right software for your needs, we already done the evaluations so you don't have to.
1. MEmu Play – Free Android Emulator
MEmu Play is an Android emulator that specializes in video games, thanks to which you can enjoy any of the many exclusive titles you can find for mobile phones and tablets, directly on your computer. You don't need to adjust complicated settings and configure the controls, just install it and start playing.
Installing Android games on other Android emulators can be relatively complicated, but with MEmu Play, you just have to click the APK button on the right side of the interface, select the APK of the game you want to install, and wait a few seconds. The game will then be installed and ready to play. Clash of Clans, Subway Surfers, Minion Rush, and Geometry Dash are just some of the games you can play on your PC with this emulator.
Installing games is not the only easy thing to do on MEmu Play. The controls are usually already set up, so you can play any game with either the mouse or the keyboard immediately, as you prefer. And if you don't like how the controls are configured, you can always modify them, which is super easy to do. You can even use an Xbox 360 controller, or a similar one.
MEmu Play is an exceptional Android emulator that gives you access the whole catalog of games for this operating system on your PC. We're talking about thousands of games, all free, which you can enjoy on your computer. The best thing about it is that you don't even need a really powerful computer to run the games perfectly.
Download The Latest MEmu Play
2. Nox App Player – Free Android Emulator
Nox App Player is an Android emulator that lets you use almost any of this operating system's apps from the comfort of your own computer. We're talking about apps along the lines of Clash of Clans, Instagram, Subway Surfers, and Kitchen Stories.
Nox App Player's operating system is based on Android 4.4.2, which lets you use practically any app within Android's extensive catalog. Additionally, this version is possibly one of the most popular and widely used programs out there today, so tons of users are already familiar with it.
Another unique feature Nox App Player provides is control customization. When launching any app, you can create custom controls in a very simple and intuitive way. In less than a minute, configure your keyboard to adapt its buttons for any Android game. You'll even find options that are specially designed for shoot 'em ups.
Plus, thanks to a recent collab partnership between NOX and Uptodown, the official Uptodown Market App comes pre-installed on NOX. Download and run any app from our whole catalog of apps and get automatic updates for any of your downloads directly from our new virtual machine.
Nox App Player is a powerful Android emulator for Windows. Now your Windows PC can run any of the hundreds of apps originally created just for Android — the most widely used smartphone operating system in the world.
Download The Latest Nox App Player
3. LDPlayer – Free Android Emulator
LDPlayer is a unique emulator of Android OS that is fully focused on providing you with one functionality – flawless running the most recent and popular Android smartphone games directly on your PC. Optimized with great care to take full advantage of your PC hardware (such as much stronger CPU, GPU, Storage, and RAM hardware than on any portable Android device), and with great care taken to provide perfect compatibility with the latest gaming titles, the app represents the best way you can transform your home PC or laptop into a gaming machine that runs the latest mobile software.
Enjoy full Android experience with well-developed Android 5.1 and Android 7.1. Download Android Games and apps from pre-installed LD Store or Google Play!
In addition to superb experience in handling the latest gaming titles, LDPlayer Emulator also prides itself on its full online compatibility. You can play both solo and multiplayer games on your PC, like a Call of Duty Mobile, PUBG Mobile, Clash of Clans, Clash Royale, Brawl Stars, Arena of Valor, Free Fire, etc, with improved latency and bandwidth speeds that are offered by your landline connection to the online world.
As proof of the capabilities of this emulator, several large mobile game publishers have elected to use this emulator to offer their mobile games as a native PC product. One of the greatest examples of this is the cooperation between the app and Tencent which resulted in the release of the mobile version of the game PlayerUnknown's Battlegrounds on PC.
Download The Latest LDPlayer
4. GameLoop – Free Android Emulator
GameLoop is the next generation android emulator software offered to you by Tencent, the same company that created the Android version of the popular battle royale video game PUBG and that has distributed a highly efficient Android emulator on PC called Tencent Gaming Buddy. After many months of working on new features and upgrades to old services, Tencent has released an updated version of Tencent Gaming Buddy app, finally exiting it from its original beta status with a brand new interface, access to new tools, and with completely new branding that renames this app into Game Loop.
In its core, GameLoop is still the best Android emulator that you can use to bring many of the popular mobile games to life straight on your PC screen. What is new however are built-in services for optimizing your network performance, support for easier discovery of online friends for coop and MP play, built-in access for watching live streams on Nimotv and Nonolive services, and GameCenter – a centralized hub for discovering, downloading and playing a wide variety of most popular Android games of today (including Call of Duty Mobile, PUBG Mobile, Clash of Clans, Clash Royale, Brawl Stars, Arena of Valor, Free Fire, Clash of Kings, Candy Crush Saga, Rise of Kingdoms, Idle Heroes, Paper.io 2 and many others).
By installing GameLoop Emulator on your home PC or a laptop, you can not only experience android games on your monitor or TV, but you can also reproduce them in a way that vastly outperforms the capabilities of modern mobile hardware. Advanced PC rendering hardware and almost an unlimited amount of memory can help you achieve rendering performance that is impossible on mobile phones and tablets, and built-in services such as game lobbies and friend management can help you to better organize your online sessions.
Download The Latest GameLoop
5. Phoenix OS – Free Android Emulator
Phoenix OS is one of the newer Android emulators for PC. Like most these days, it boasts a gamer experience. However, it also boasts a desktop-like experience so it actually works pretty well for productivity as well. It has Google Play Services, although updating those services can be a bit of a pain sometimes. That means you get every app and game in the Google Play Store. Phoenix OS also runs Android 7.1 which is relatively modern for an Android emulator. You can download the emulator from its official website and its forums are housed on XDA-Developers.
Download The Latest Phoenix OS
Conclusion
The list above is our recommended best Bluestacks alternative android emulator for your PC or laptop. If you know some other Bluestacks alternative android emulator that are good then let us know by writing a comment or suggestion below.